Jeff Lisath Basketball Inc. was created in 1979 in Portsmouth, Ohio. The initial purpose was to give at risk youth a positive alternative to "street life."
Jeff Lisath, founder, Executive Director and CEO of JLBI found through research that kids with idle time, low self-esteem, and those who have demonstrated behavioral problems, often turn to crime, drugs, violence, gangs, therefore becoming permanent threats to the community.
The Mission of JLBI is to ensure that all kids receive a holistic and individualized educational experience that will enable their growth and understanding of:

*basic fundamentals of basketball
*basic principles of team building
*how to maximize his/her potential
*how to interact with others

The JLBI Social Service Programming

The objective of the JLBI's Social Service programming is to educate kids on the physical, developmental, and psychological affects of alcohol and other commonly abused substances. To assist kids with their development and enhancement of life skills.
Jeff Lisath Basketball Ministries
Sharing Scriptures that motivate the kids to live a meaningful, productive, and happy life while inspiring them to strive for excellence and character in living. Each session starts with a thought-provoking quote, supplying participants with Godly insight on numerous topics vital to life. You will find familiar and unfamiliar quotes covering subjects as career achievement, excellence, character, and integrity in living, the importance of relationships, and finding real success in life. A Scripture is included after each quote, so the kids can understand what God's Word, has to say about the topic. This is a Christian based organization.
Christian Basketball Camp
This is a random yet annual event that takes place during the summer months. The ultimate goal is to use basketball as a platform for ministry. Jeff invites fellow Christian athletes from all levels to come in and share what they have learn through life and how God has directed their paths to become the person they are today. Starting with his testimony Jeff will draw kids in and then challenge them on the court while giving out free t-shirts and basketballs! Pro and College athletes have participated over the years to make this a huge success.



The JLBI Enrollment Policy

Open to all students grades 4 through 12
*Tuition is based on yearly funding.
****Please send donations to Jeff Lisath Basketball Ministries, 206 Chapel Lane Dayton, Ohio 45431 (Receipts will be sent to all Sponsors 501 (c) Non-Profit organization)

Winners and Losers come together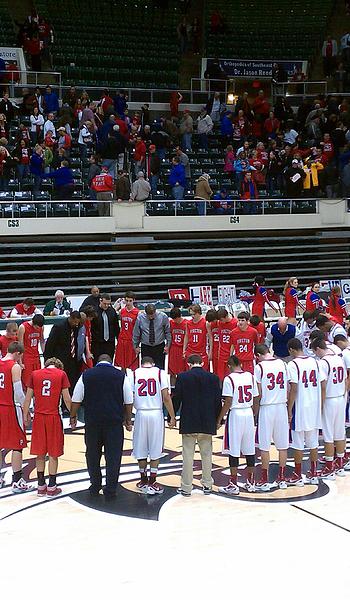 In prayer after District Game

Jeff Lisath just completed his third season as the Head Boys Basketball Coach at Northridge High School in Dayton, Ohio where he led the Polar Bears to their third straight SWBL Conference Titles, Northridge finished at 23-3 winning another Sectional Title and being district Runners-up, AP ranked #5, this following the 2015 season with 24-3 record, AP ranked #5, 12-0 Conference record, and the school's first District Title since 1945. Prior to this Jeff coached at Piketon High School where for nine seasons the Redstreaks were 140-68, Scioto Valley Conference league record of 93-33 with four championship titles. In 2008-09 Lisath led the Redstreaks to the school first appearance ever in the State Final Four. During Lisath's 9 year tenure at Piketon he won seven Sectional Titles, three Holiday Classic Championships, two District Titles, District Runners-up and a Regional Title. The Redstreaks were AP State Ranked #8 in the 08-09 season and #6 in the 2010-11 season and #9 in the 2012-13.
Jeff was twice named an All-Ohio basketball player at Portsmouth High School, where he led the Trojans to a State Championship in 1978. Jeff was named the State Tournament MVP, a member of the PHS Hall of Fame. He attended college at Miami Ohio University where he lettered four years in basketball. He was Team Captain, Defensive Player of the year, Marshall North Award Winner.

Coaching Career:

Columbus State Community College 59-9
Unioto High School 39-28
Chillicothe High School (Girls) 33-34
Piketon High School 140-68
Dayton Northridge 59-17
Totals 330-156
Highlights:
Two-Time All-Ohio basketball player
Two-Time State Champion (player & Asst. Coach)
Four-Time SVC Coach of the year
Three-Time SWBL League Champions/Coach of the Year
Six-Time District Coach of the year
2015 AP Ohio Division III Coach of the Year
Winningest Coach in Piketon History
12 Sectional Titles, 8 League Titles, 4 District Titles,
1 Regional Title, 1 State Final 4
Six times to Coach the District 14 & 15 All-Star Team Both boys and girls)
2012 Named to coach the North/South All-Star Team
2015 Guest Speaker for the Nike Basketball Clinic
All-Ohio AAU Coach 1987-1997
NBA Tryouts New Jersey Nets 1982; Washington Bullets Wizards) 1983

Professional Biography:

Jeff Lisath started his career in Corrections in 1986 as a Correctional Officer at the Southern Ohio Correctional Facility in Lucasville. In 1987 Jeff became a Substance Abuse Prevention Specialist for the Scioto County Counseling Center up until 1990 where he re-entered the Prison system as a Correctional Officer for the Federal Bureau of Prisons in Ashland, Kentucky. Following a brief stint with the Federal Bureau of Prisons Jeff re-united with the Ohio Department of Rehabilitation and Correction by becoming a Program Specialist in 1990, promoted to Inspector in 1995, and promoted to Deputy Warden in 1996 at The Southern Ohio Correctional Facility in Lucasville. In 1997 Jeff received the Gold Star Award for his outstanding Community involvement and leadership. In that same year he appeared in Corrections Today Magazine as being named The Best in the Business as well as being promoted to Tactical Response Coordinator for the entire Department of Corrections. In 1998 Jeff returned to the prison where he was named Deputy Warden of Operations at The Ross Correctional Institution. In July 2012 Jeff was appointed Warden at the Dayton Correctional Institution and later retired in 2016 as Warden at the Pickaway Correctional Institution. Jeff is currently the Director of Safety, Security and Student Affairs at the Northridge School District in Dayton, Ohio and received his Bachelors degrees at Miami University and Ohio Christian University.



2014-15 Dayton Northridge Polar Bears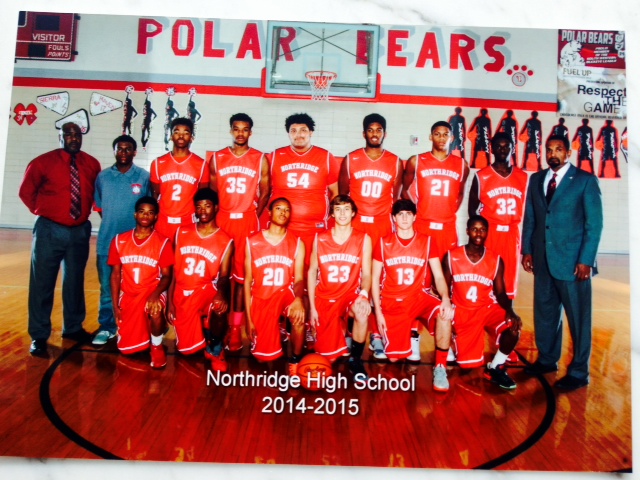 AP#5 Regular season 20-2 SWBL Champs 12-0